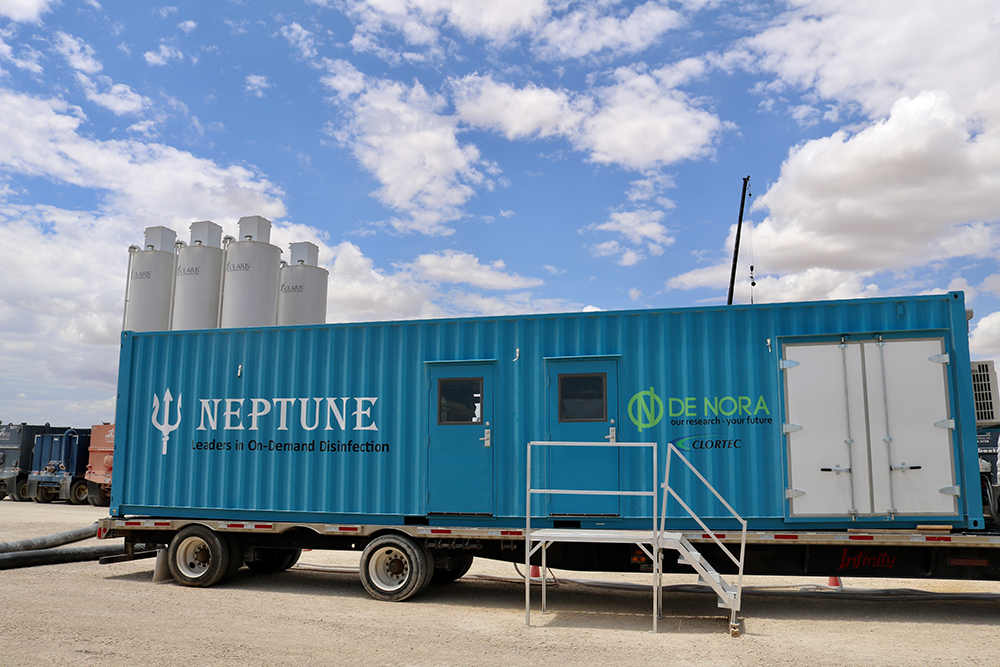 Neptune Solutions Company
The Neptune team has been recycling produced water and treating frac water on-the-fly since 2012. Originally, we introduced the Permian Basin to Chlorine Dioxide systems. In 2017, in search of a better solution, Neptune joined with De Nora Water Technologies to bring a better and safer technology to the oilfield. The results have been significant.
ON THE FLY BIOCIDE TREATMENT
With our Partners, De Nora Water Technology, Neptune has introduced an advanced oxidant solution to treat frac water on-the-fly. The advanced oxidant provides a complete bacterial kill, like other oxidants such as Ozone and Chlorine Dioxide. But, unlike Chlorine Dioxide, there are no poisonous gasses, hazardous materials or threats of explosions. The solution does not threaten the frac companies iron and is does not interfere with the frac chemistry. This treatment method does all this, and is still the safest option available in the market today. The advance oxidant is made on site with SALT – WATER – ELECTRICITY.
RECYCLING PRODUCED WATER
Our Recycled Produced Water approach is simple and cost effective. We work with each Operator and utilized current infrastructure to find the right mix of treatment and storage. Recycling Produced water doesn't need to be difficult ... and certainly not expensive.